For Your Ohio Guests
Royal Thrones
Of Ohio
A Better Place To Go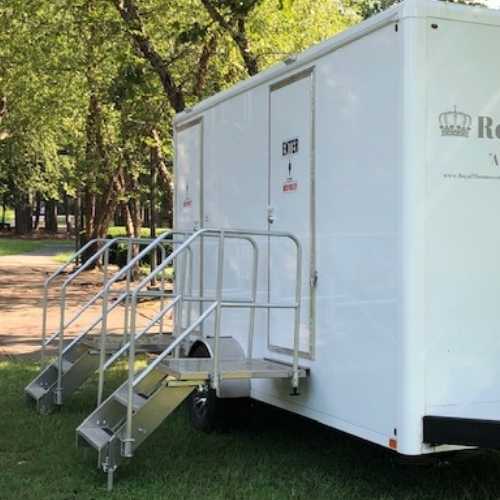 Ohio Private Party Restrooms
Royal Private parties are for special guests, so don't make your guests use eerie Porta Potties. Allow Royal Thrones to create a classy and comfortable environment for all your guests needs. These comfort stations are clean, efficient, reliable and overall a great addition to any private event. Give us a call for a free VIP restroom trailer quote and your Royal Throne will be delivered right to your scheduled destination.
Business Remodel Restrooms
Planning a business bathroom renovation old restrooms? It's critical to provide your staff and visitors with a clean, well-lit, and welcoming restroom. However, remodeling is never an easy procedure. Here are a few things to take into account when remodeling your bathroom. In addition to sticking to your budget, you'll need to make sure that your employees have a comfortable location to work while the new and better office restrooms are being built. The ideal solution is provided by Royal Thrones of Ohio.
If you're going to remodel your bathrooms at your business, consider the Royal Thrones Restrooms of Ohio for your remodeling project. Their experienced team can deliver a restroom that not only clean, but comfortable as well.
Graduation Celebrations
Graduation celebrations are a big deal. You don't want dirty Porta Potties to get in the way of such an achievement. Instead, order a VIP trailer and keep your guests comfortable and ready to celebrate. The Royal Throne is air conditioned, clean, reliable and delivered right to your destination. Call today for a great rate and get ready to celebrate!
Sporting Events
Sports can be dirty, your sporting events restrooms don't have to be. A restroom is a necessity, however the typical Porta Potties are dirty, smelly and sometimes even avoided. Royal Throne is now supplying the area with clean, air-conditioned and reliable comfort stations for all of your athletes needs. Call today for a free quote and schedule to have your Royal Throne of Ohio VIP trailer delivered right to your sporting event.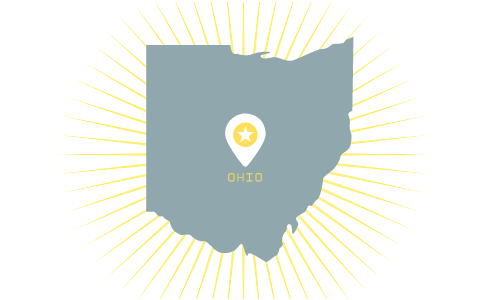 Ohio Luxury Portable Restrooms
Make your next event an unforgettable experience with Royal Thrones! We provide luxurious restroom rentals throughout Indiana, perfect for any occasion. Our expert team is dedicated to ensuring all aspects of the rental process are taken care of to ensure a smooth and pleasant experience. We have everything you need in our diverse collection of high-end trailers. Enjoy hassle-free luxury by choosing Royal Thrones of Ohio today!
You don't want to have unsightly Porta Potties at your dream wedding, but many venues do not have the restroom capacity to service all your guests. Our luxurious bathrooms are designed to provide a comfortable and hygienic restroom experience for your guests or staff. Our rental units are equipped with hot and cold running water, flushing toilets, and sinks, as well as quality lighting, interior decor, and air conditioning. Our bathrooms are perfect for special events, construction sites, or any other temporary need. Contact us today to reserve one of our luxury bathroom rentals and make your next event or project a success.
We strive for excellence in customer service and satisfaction and will go above and beyond to meet your needs. Our staff is highly trained, professional, and always available to answer any questions you may have. When you choose Royal Thrones, you can expect a hassle-free rental experience. We provide delivery, setup, and pickup services for all our rental products. We also offer a wide range of additional services such as restroom cleaning and sanitizing, and waste removal.
At Royal Thrones, we understand that hosting an event can be stressful. That's why we are dedicated to making your event a success. Contact us today to find out how we can help make your event a memorable one.
Our luxury restroom trailers were designed to be spacious and comfortable with running water and air conditioning. Royal Thrones is known as the friendly, professional, and yes, luxury option for restroom trailer rentals. Our trailers are designed to create the experience of a 5-star hotel. The Royal Throne is perfect for a wedding, a concert, a golf tournament, a construction project, or any other event easier than ever before.
Royal Thrones of Ohio
Our luxury restroom trailers were designed to be spacious and comfortable with running water and air conditioning. Royal Thrones is known as the friendly, professional, and yes, luxury option for restroom trailer rentals. Our trailers are designed to create the experience of a 5-star hotel. The Royal Throne is perfect for a wedding, a concert, a golf tournament, a construction project, or any other event easier than ever before.
In Ohio, we cover all of your portable restroom needs. Whether your occasion is a little event or large business event, a wedding ceremony or a big celebration, business remodels, or an unexpected emergency circumstance, we have the solution for the outdoor restrooms. Royal Thrones Restrooms portable toilet trailers in Ohio are exclusively styled with your guest's luxury comfort in mind. The trailers themselves are appealing yet diverse restroom facilities that can be put in virtually any type of location and also may entirely work without direct connection to venue water or power sources. Royal Thrones of Ohio supply your guests with sanitary bathrooms, personal privacy, and also maximum area and comfort.
Portable Bathroom Gallery
Royal Thrones Rental Guide
You can learn everything there is to know about renting a luxury restroom trailer from our Royal Thrones rental guide. Every day across the nation, Royal Thrones rents out portable restroom trailers.  Fill out the short form to get an estimate, and we will call you to discuss your needs, or give us a call at 1-513-659-8221 for additional details about our rental restroom trailers.
How To Reserve A Restroom Trailer
When you're looking to reserve a restroom trailer, the process is hassle-free. Simply fill out the convenient form on our website and one of our representatives will respond shortly. If you have any questions regarding your rental, feel free to give us a call – we always enjoy hearing from our customers! Our team of friendly experts are available at 800-721-6740, 7 days a week. We will contact you right away to answer any questions and complete the process of booking your restroom trailer.  Get A Quick Quote 
WHAT ARE THE ELECTRICAL AND WATER REQUIREMENTS?
Our restroom trailer requires a 110v dedicated 20 amp power source within 100 ft of placement. If the weather is under 45 degrees, a separate 20 amp source may be needed (for added wall heaters and/or water heater). If power is not available onsite, we offer generators that you can rent along with the trailer. Our restroom trailer requires a water source within 100 ft of placement in which our garden hose can be connected to supply water. If the event does not have access to a water supply, we have an onboard water supply than can be used at an additional cost.
WHAT IS INCLUDED IN THE RENTAL
Royal Thrones provides a convenient and luxurious bathroom experience for events of all sizes. Not only do we provide the restroom trailers, but we also supply everything you need to hook them up – such as electrical cords and water hoses! Our trailers come fully stocked with toilet paper, paper towels, trash with trash bags, and hand soap so you don't have to worry about bringing your own supplies. However, the client is responsible for basic upkeep during events such as adding paper products when necessary and if desired Royal Thrones may have trained attendants that can be on-site to handle these tasks at an extra cost depending on the location
If a long-term rental is chosen, then the client will also be responsible to clean, maintain and supply the trailer as needed.
HOW IS DELIVERY CONDUCTED?
For a Saturday event, our restroom trailer is normally delivered on Thursday or Friday. Our delivery team will schedule a convenient time to deliver the trailer to your venue. We will adjust our timetable to a coordinate with you to ensure a prime delivery time and restroom trailer placement. we would prefer to meet someone on site to show us where you prefer the tailer parked.  Our restroom trailer is typically picked up on Sunday or Monday, so nobody needs to be present.
What parking area is needed?
It is necessary for the trailer to be put up in a somewhat flat area.  We do have the ability to level the trailer a few inches.  It's also crucial to keep in mind that our trailers don't do well in confined locations or around tree limbs. Make sure that both the placement area and the road to get there have enough clearance (12'w x 12'h) from any overhanging tree branches.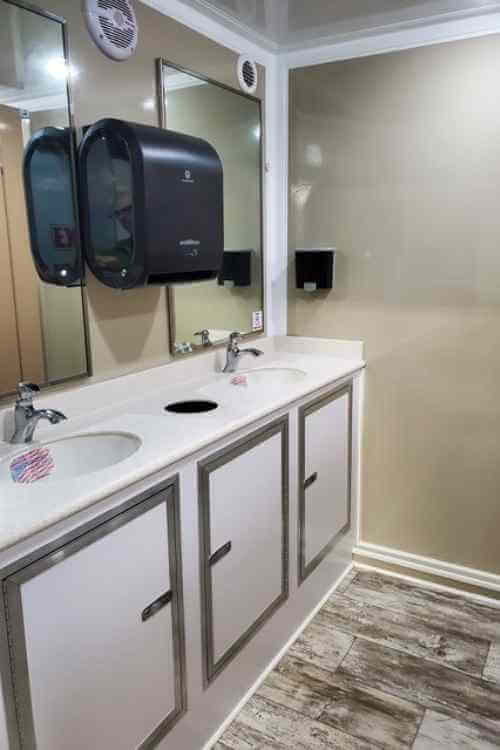 Our Esteemed Clients Speak
I've had the pleasure of enjoying Royal Thrones at several events over the years. Not only are the restrooms clean and spacious, they attend to the smallest detail. This is a great service for Northwest Arkansas.
I saw one of these when I went to a friend's wedding. This is not the typical portable potty. Inside the restroom, you will find it very clean and spacious. Large mirror with matching countertop, and nicely decorated.
Bill gave us prompt and efficient service with a top-notch restroom trailer. Our guests were pleased by the cleanliness and the luxury of having a bathroom on site. We will recommend and use Royal Thrones again.
Two Station Shower Trailer
At Royal Thrones, we provide the highest quality luxury portable bathrooms in Ohio. Our products are designed to provide comfort and convenience for any event or occasion. Whether you need a restroom for a wedding, corporate event, birthday party, or any other special event, Royal Thrones has the perfect solution for all of your needs. With our luxury portable bathroom will make your occasion special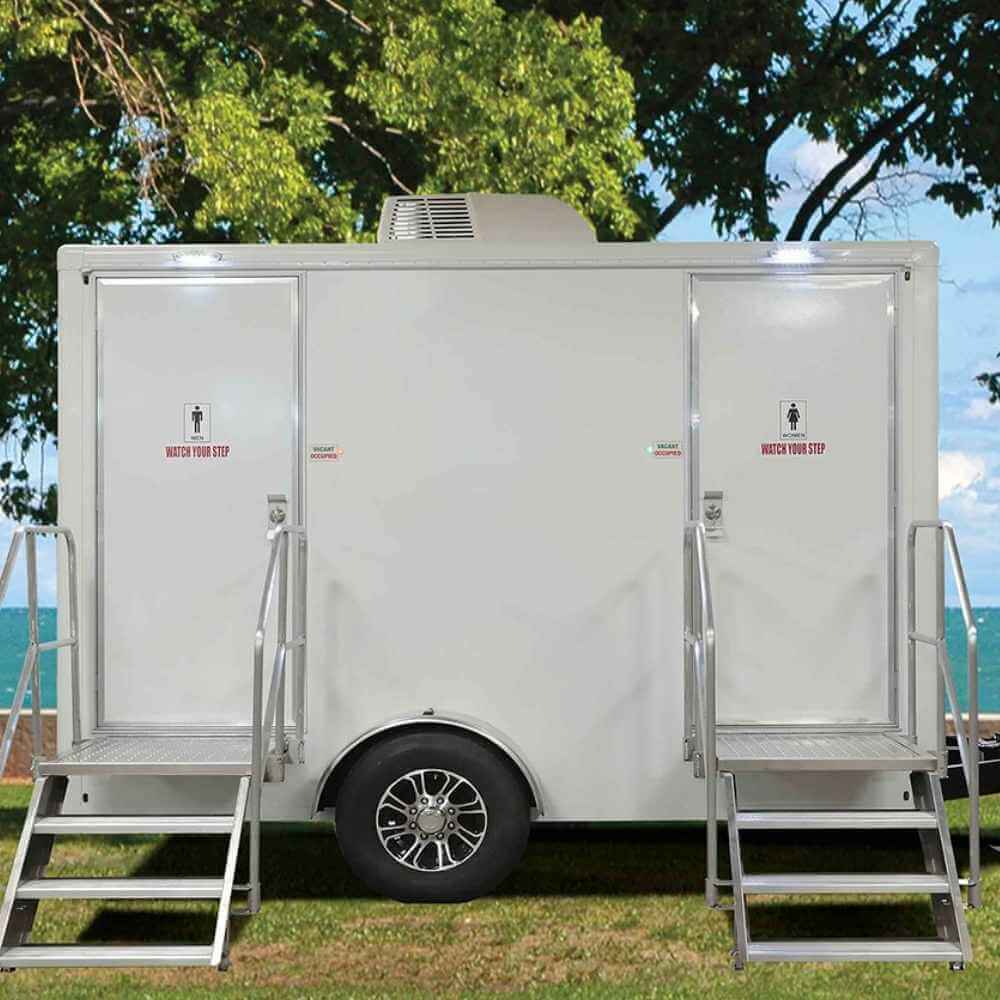 Muncie, Indiana
Hamilton, Indiana
Springfield, Ohio
Terre Haute, Indiana
Lawrenceburg, Indiana
West Chester, Ohio
Springfield, Ohio
Hamilton, Ohio
Florence, Kentucky
Middletown, Ohio
Anderson, Indiana
Xenia, Ohio
Pikeville, Kentucky
Mason, Ohio
Lebanon, Ohio
Fairfield, Ohio
Harrison, Ohio
Georgetown, Ohio
Beavercreek, Ohio
Dayton, Ohio
Richmond, Indiana
Lexington, Kentucky
Louisville, Kentucky
Columbus, Ohio
Indianapolis, Indiana
Tipp City, Ohio
Richmond, Kentucky
Centerville, Ohio
North College Hill, Ohio
Greenville, Ohio
Sidney, Ohio