Royal Thrones
Used Restroom Trailer For Sale
Royal Thrones
Used Restroom Trailer For Sale
Royal Thrones
Used Restroom Trailer For Sale
Sale of Royal Thrones mobile restroom trailers
Since 2014, Royal Thrones has been providing client service. We offer portable restroom trailers for sale or rent to businesses needing temporary restroom facilities with a permanent feel and built-in amenities from coast to coast.
Our objective is to have an inventory that meets all business requirements; therefore, it is crucial for us to comprehend location-specific requirements.
What Options Do You Have for Portable Restroom Trailers?
Where do you begin when considering portable restroom trailer alternatives now that you are aware of how important well-designed facilities are?
The porta potty was for a very long time the most popular option for a temporary restroom solution. To the dismay of the users, these little temporary facilities were present everywhere—at festivals, sporting events, and construction sites. Although this is a cost-effective choice and can be satisfying with adequate upkeep, many people would prefer to stay away from utilizing them if at all feasible.
It is no longer necessary to send your customers and employees scurrying to the closest establishment with clean restrooms. We are pleased to offer a luxurious restroom experience to everyone with our Royal Thrones portable restroom trailers. Our portable restrooms begin with a spotless, sturdy, and friendly exterior. You wouldn't immediately assume that these trailers contain restrooms.
Each trailer has running water, air conditioning, and heat strips installed during construction to guarantee a comfortable interior temperature regardless of the outside weather. You'll find aluminum steps and railings for safety when you enter our portable restroom trailers, and you'll also notice plenty of porch lighting for safe entry at any time, day or night. In order to make restrooms accessible to everyone, we also provide portable restrooms that comply with ADA standards.
You'll be amazed as you enter one of our portable restroom trailers and take a look around. Designer countertops and non-slip floors are available in a range of materials. Beautiful counter tops may be found in the restroom suites for individuals seeking luxury. Each restroom trailer has a unique layout and personality, and some have individual bathrooms with doors that close. Get ready to choose a design that speaks to you and your company from our selection of portable restrooms for hire, which ranges from warm, classic colors to lighter, modern tints.
Each and every one of our trailers for temporary restrooms is furnished with flushing toilets, hot running water, and paper towel dispensers. In the temporary restroom sector, these luxuries are hard to come across, thus we are pleased to offer the best.
View Our Selection of Saleable Portable Restroom Trailers. Shop our selection right away!
Royal Thrones
Used Restroom Trailer For Sale
Disaster Relief Restroom Trailer
Luxury high-end portable trailer custom built at an affordable price. This unit is available immediately. Call now! 800-721-6740
This trailer is built by Optima Industries is the perfect solution for any event. This trailer is a 2021 model will provide a clean and private space for users to enjoy. With features like flushing toilets, running water, and air conditioning, luxury restroom trailers offer a level of comfort that is unmatched by traditional porta potties.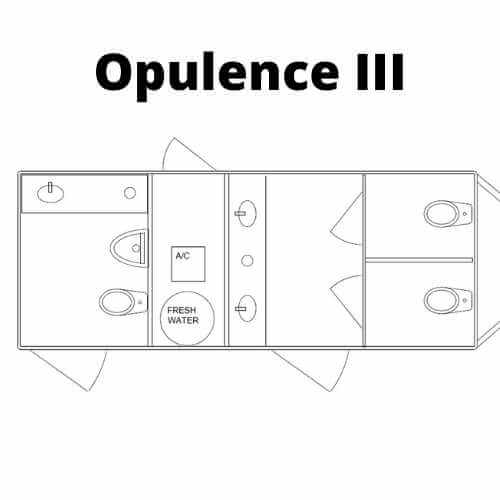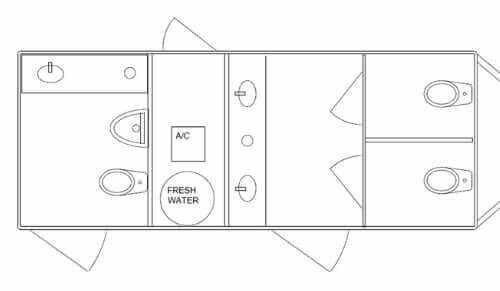 Used Portable Bathroom Trailer
This 2021 Opulence III has been used for 18 month and is one of our largest standard units. . It contains – one male restroom furnished with a sink, toilet, and urinal, as well as two individual female restrooms. This trailer has been well maintained and is available for delivery immediately. Call 800-721-6740
You'll find this restroom trailer is built with air conditioning, sinks, and running water, ensuring that a comfortable interior temperature is maintained no matter what the outside weather may be like. As you enter our portable restroom trailers, you'll use aluminum steps and railing for safety and notice abundant porch lighting for safe access no matter what time, day or night. 
From spacious interiors to private stalls with flushable toilets, luxury restroom trailers have everything you need to make your event a success. With climate control heating and air conditioners, Royal Thrones luxury restroom trailers can even be used in locations where there is no access to traditional restroom facilities. So if you're looking for a way to take your event to the next level, consider renting a luxury restroom trailer. Your guests will thank you for it! Price $42,000.
479-259-9800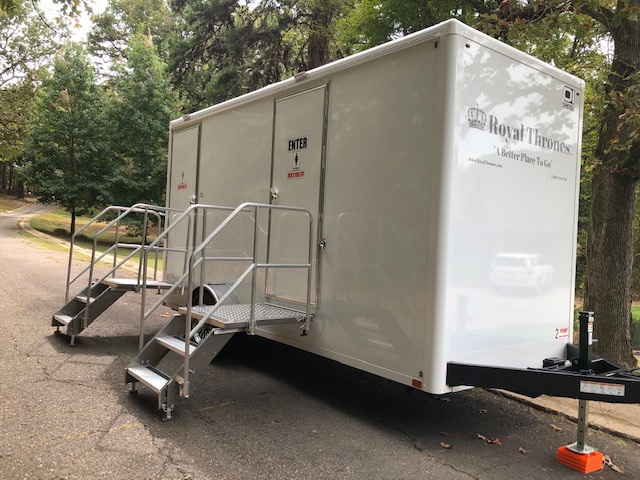 Features of this Used Restroom Trailer For Sale

Exterior Standard Features
Brownstone interior color
Interior lighting
Lockable base cabinets
Metered self-closing faucets
Wastebasket
Soap dispensers
Paper towel dispensers
Toilet paper holders
Hands-free, ceramic pedal flush toilets
Sanitary napkin receptacle (women's room)
Shatterproof mirrors with frames (stainless)
Premium heavy-duty door closers
1 piece non-skid safety flooring
Exterior Standard Features
LED occupancy/vacant lighting
LED porch lights
Secure all-aluminum fold-down porch and steps with safety handrails
Standard 3″ Banjo gravity feed dump valve
LED waste tank level indicator light w alarm
1″ threaded wash-out plug
City water fill (standard garden hose)
Freshwater fill diverter (hydrate the trailer or fill water tank)
105 gal. freshwater holding tank
Roof mount A/C with heat strip
Insulated walls and ceiling
E-rated trailer tires